11/05/2018 at 14:27
This week's blog simply has to be about rocks.  Our geography lesson which focused on rocks proved to be so popular that we have had an influx of rock collections make their way into school!
We learnt about the 3 types of rock – sedimentary, igneous and metamorphic. We learnt that limestone (which is prominent in the Yorkshire Dales where we go for residential) is a type of sedimentary rock.  Perhaps the most fascinating thing we learnt is that the limestone was formed millions of years ago under tropical seas! That's why you can often find fossils of sea creatures, if you look hard enough!
We also learnt that the caves we will go exploring in are made of limestone.  The caves are formed when water permeates and erodes away the limestone over time, creating big holes and caverns underneath the top layer of soil and dirt.  When a hole becomes too large and the top layer of soil collapses, this is called a sink hole or shake hole.  The entrance to the caves we are exploring are actually sink holes! We found this really awesome!
As well as learning about rocks, we have learnt about national parks, the Settle -Carlisle railway and sand martins (which we hope to see on our residential walks)… these topics just didn't compare though, and all of 5B have gone a little rock-crazy!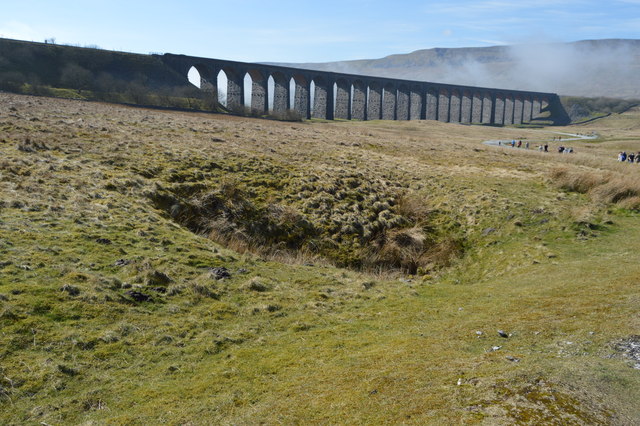 This picture shows a sink hole near the viaduct.
27/04/2018 at 22:42
This week in 5L the children have all been working fantastically well. In literacy we have been designing new and completely bonkers inventions for Wallace (of Wallace and Gromit fame) as well as writing explanations for how they work. The class have all managed to apply their learning and create some quite good explanation texts that will prevent these inventions from doing what Wallace's inventions usually do which is fail spectacularly….we hope.
In maths we have been exploring angles, looking at how to measure and draw angles accurately using a protractor, estimate the size of an angle to within a few degrees and learned lots of different rules for working with angles. For example, we know that the angles in a triangle add up to 180 degrees while those in a quadrilateral add up to 360. We have also discovered that opposite angles are equal, which came in handy when we looked at working out angles on intersecting lines.
And of course in music we have moved on to a brand new song that has proved to be the most popular yet, with 100% of the class absolutely falling in love with it. That song is of course Will Smith's iconic 'Fresh Prince of Bel-Air'. It has been a little trickier to get our mouths around this song (so many words, so little time) but the children have all done really well and managed to pick it up quite quickly. The class have even started playing around with the song a little more, adding movements and expression while they are rapping. As always, we wanted to share this with you.
27/04/2018 at 14:16
Today was all about finding the pulse of the music.
Dom, "This means the beat and the rhythm.  You find it by listening to the music and the drums can help you find it too."
The song we listened to was The Fresh Prince of Bel Air by DJ Jazzy Jeff and The Fresh Prince.
Dev, "It was amazing and fun!"
Katie, "I can't wait till next time we do music!"
Girleen, "It was a fun challenge to rap so quickly to the beat."
As you can see from our video, most pupils 'flossed' to the beat!
20/04/2018 at 11:34
Hello and welcome back!
This is arguably the most exciting half term in year 5, as we have our residential trip!  Pupils are already beginning to show signs of excitement and there has been lots of questions.  Remember, you can always look back over past year 5 residential blogs to get a feel for what we will be doing.  Just use the search bar at the top left!
In maths, we are going to be learning all about geometry. So far, we have been using protractors to measure angles.  Soon, we will be working out angles without a protractor! As the half term progresses, we will be looking at coordinates and 3d shapes.
In literacy. our focus is explanation texts.  Ultimately, pupils will write their own explanation texts on a subject of their choice.  Last year, pupils wrote explanation texts on: how to build a house in Minecraft; how to eat sour sweets with a straight face; how to score a penalty; how to host the perfect sleepover.  No doubt with the latest crazes at the moment, we will have some explanation texts on how to do the floss dance!
In our topic lessons, we will take part in a variety of lessons, all which will support our upcoming residential trip.  We have already found out more about national parks and about the Yorkshire Dales.  We will also learn about different types of rocks and how the caves are formed.  We will learn about the Settle – Carlisle railway, wildlife we will see,  how to read maps and many more useful things for our trip.
In science, we will be studying life-cycles of birds, amphibians, mammals and insects.  The classes will undertake some pupil-lead investigations and research and ultimately will produce a big poster detailing everything they have learnt over the half term.
27/03/2018 at 14:12
The school's ethos statement this week was 'I am proud of myself'.  5B delivered an assembly in front of the whole of KS2!  I was so incredibly impressed with how brave they were to do this, and the assembly was very well received.  We managed to get photos of many of the pupils during their speaking parts:
23/03/2018 at 11:31
We really enjoyed our trip to a mosque, where we learnt more about Islam.  We learnt about the 5 pillars of Islam and about the Quran.  We learnt how Muslims wash themselves before reading the Quran or before praying and we also learnt about the pilgrimage that many Muslims make in their life, to visit the Kaaba.  We were shown the way a Muslim prays – shoulder to shoulder, because everyone is considered equal.  We even found out that anyone is welcome in the mosque to pray, no matter their religion.