08/06/2018 at 16:20
This week in 5L, we have hit the ground running for the final half-term and the children have done really well. In maths, we have been looking at time – specifically reading and telling the time and figuring out the intervals between two given times. The children have shown a good understanding of time using both analogue and 24 hour digital clocks.
The children also gave some short presentations about their favourite books, explaining a little bit about the story as well as giving reasons for why they like it and why others should read them as well. Each presentation was unique and the children all delivered them really confidently. We had some presentations using videos, props or a whiteboard to write on and some who just kept it nice and simple and spoke directly to their audience. Needless to say, everyone did brilliantly!
In music we started by wrapping up the 'Fresh Prince of Bel Air'. The children have really enjoyed learning and performing this song (though we discovered that they struggle to bop in sync with each other!) and would like to share their final performance with you.
This half-term we are moving on to a new musical project but this time we're mostly keeping the product under wraps – for now!
08/06/2018 at 15:56
This half-term, we are going to be looking at Shakespeare's 'A Midsummer Night's Dream'. It is a fairly confusing play, so this week our for Literacy lesson we have spent a lot of time getting our heads around it all. To help us out, we have been using the following video (parents, I apologise in advance for this song being stuck in your head…):
The children also put their dramatic skills to the test and created some fantastic freeze frames to show key events of the play. I am sure that you will enjoy these as much as I did.
24/05/2018 at 19:34
Phew! Another fabulous day!
Today the class split into two, with one half cycling while the other half went caving (then we swapped over).
I (Miss Bradley) was lucky enough to go cycling AND caving.  I was blown away by the effort and enthusiasm of the pupils I spent the day with.  It was also so lovely to see the pupils cheering each other on and providing lots of support and encouragement.
We had a few minor injuries while cycling.  This included some grazed elbows and knees.  This didn't slow us down at all though!  I was actually really impressed with the children and of those who tried the harder cycling challenges; I didn't realise just how tricky the route was – steep banks and hairpin bends!
While caving, most of us took the opportunity to smear cave clay over our faces.  Mrs Hawkhead had a full facial but is still waiting for the clay to take 10 years off, giving a youthful and radiant appearance, as promised by Charlie.  There was some water in the cave and some sections where we crawled, so most pupils got water in their wellies.  Miss Bradley had water in her wellies before the caving even began though, because she fell in a muddy bog! Once we finished the last cave, we poured our welly water over each other's heads as a final hurrah!
We are now all back at the lodge and dinner is cooking.  Pupils have showered and most are playing in the garden.  Some children have come inside however and are keen to have their say on the blog.
Dom: "I had a lovely time and I don't want to go back tomorrow! I fell of my bike today but I just got back on and went up the hill.  I also flossed inside the cave!"
Izzy: "Hi Mum and Daddy."
Grace: "Hi family.  I'm having a great time and I've learnt lots of wonderful things.  I don't want to leave tomorrow… but I can't wait to see you!" (Grace came back after 5 minutes to add that last bit.  She said she didn't want it to seem like she wasn't missing home!)
Girleen: "Hi Mum and Dad.  I'm having a lovely time. My favourite part of residential was when I had to squeeze through a tiny hole in the caves!"
Jace: "I'm having fun. I've got to go help tidy my room! Bye!" (He was a man with a mission!)
Saroop: "Hi Mum and Dad. My favourite part in the cave was squeezing through the tight holes.  In cycling, I kept falling and banging my knees and they hurt! But I didn't give up!"
 Aman: "Hello Mum and Dad.  I'm having an awesome time. I also really miss you."
Luke:  "I just want to say I had an excellent time and the favourite thing I loved was caving.  I kind of liked cycling. I didn't like going up hills though because it was hard!"
Pics below:
24/05/2018 at 00:15
Hello from Gearstones! Children have just finished eating some rhubarb crumble for supper and are now tucked up in bed… all seems quiet!
We have had a wonderful day. The train journey was really fun and we just caught 5L catching the train on the other side of the platform, so we had a few minutes to say goodbye.  After arriving at the lodge and eating lunch, pupils made their beds and then we prepared for the waterfall walk.
The sun came out and our walk was glorious.  No one complained about sore feet and some members of the public commented on just how polite the children were.  We enjoyed the whole walk but the unanimous favourite was the paddling.
The Farfield rule is – you can get as wet as you want but you aren't allowed to complain after.  Well, we weren't quite expecting people to literally dip their heads in, in an attempt to get as wet as physically possible! Before going on residential, one of the pupils asked, "can I take my goggles for the waterfall walk?" I laughed, but perhaps that wasn't such a silly question!
We are up early tomorrow for a full day of caving and cycling. Hopefully tomorrow we may also be able to read some comments from parents.
Goodnight!
18/05/2018 at 19:03
This week has been another fantastic one in 5L. With residential on the horizon, the children have all been counting down the days until we're ready to go (only a couple more days!) but have still been working incredibly hard.
This week in Literacy, we have been looking at Roald Dahl's 'Revolting Rhymes', a wonderfully "rotten" take on some traditional fairy-tales. The class were particularly fond of the poem versions of 'Little Red Riding Hood' and  'The Three Little Pigs', in which Red is a fierce fighter of wolves (with a fondness for fur coats).
'The small girl smiles. One eyelid flickers.
She whips a pistol from her knickers.
She aims it at the creature's head
And bang bang bang, she shoots him dead.'
The children then had a go at creating their own poems in this style, with some fantastic results. Hopefully, we will be able to share these in the near future when the children perform them for each other.
In maths, we have been looking at reflecting and translating shapes – which can actually be quite tricky. Miss Bradley and I really tried to push the children with some very challenging patterns for them to translate from one position to another, but the children all did really well and persevered throughout.
Today the classroom was made a little bit brighter with the wide array of reds, whites and blues that the children arrived in to celebrate the Royal Wedding. Most of the class – myself included- ate lunch together out in the sun on the field, followed by some fun and games before dinnertime came to an end. The children seemed to really enjoy this, which was lovely to see!
Next week, both Year 5 classes will be heading off on residential. Keep an eye out for upcoming blog posts, in which we will be sharing updates about the activities and photographs taken during the day!
11/05/2018 at 14:27
This week's blog simply has to be about rocks.  Our geography lesson which focused on rocks proved to be so popular that we have had an influx of rock collections make their way into school!
We learnt about the 3 types of rock – sedimentary, igneous and metamorphic. We learnt that limestone (which is prominent in the Yorkshire Dales where we go for residential) is a type of sedimentary rock.  Perhaps the most fascinating thing we learnt is that the limestone was formed millions of years ago under tropical seas! That's why you can often find fossils of sea creatures, if you look hard enough!
We also learnt that the caves we will go exploring in are made of limestone.  The caves are formed when water permeates and erodes away the limestone over time, creating big holes and caverns underneath the top layer of soil and dirt.  When a hole becomes too large and the top layer of soil collapses, this is called a sink hole or shake hole.  The entrance to the caves we are exploring are actually sink holes! We found this really awesome!
As well as learning about rocks, we have learnt about national parks, the Settle -Carlisle railway and sand martins (which we hope to see on our residential walks)… these topics just didn't compare though, and all of 5B have gone a little rock-crazy!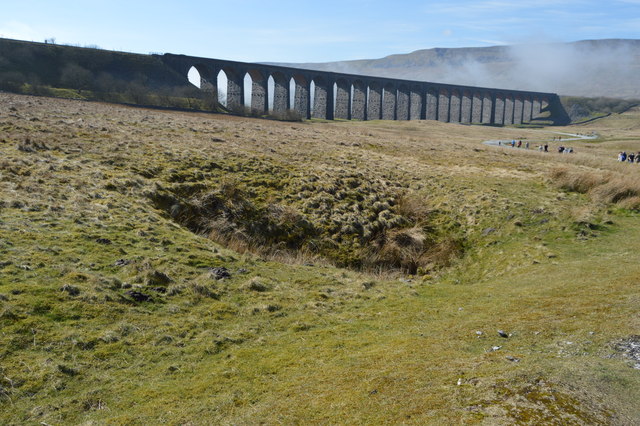 This picture shows a sink hole near the viaduct.