Rocks!!!!!
This week's blog simply has to be about rocks.  Our geography lesson which focused on rocks proved to be so popular that we have had an influx of rock collections make their way into school!
We learnt about the 3 types of rock – sedimentary, igneous and metamorphic. We learnt that limestone (which is prominent in the Yorkshire Dales where we go for residential) is a type of sedimentary rock.  Perhaps the most fascinating thing we learnt is that the limestone was formed millions of years ago under tropical seas! That's why you can often find fossils of sea creatures, if you look hard enough!
We also learnt that the caves we will go exploring in are made of limestone.  The caves are formed when water permeates and erodes away the limestone over time, creating big holes and caverns underneath the top layer of soil and dirt.  When a hole becomes too large and the top layer of soil collapses, this is called a sink hole or shake hole.  The entrance to the caves we are exploring are actually sink holes! We found this really awesome!
As well as learning about rocks, we have learnt about national parks, the Settle -Carlisle railway and sand martins (which we hope to see on our residential walks)… these topics just didn't compare though, and all of 5B have gone a little rock-crazy!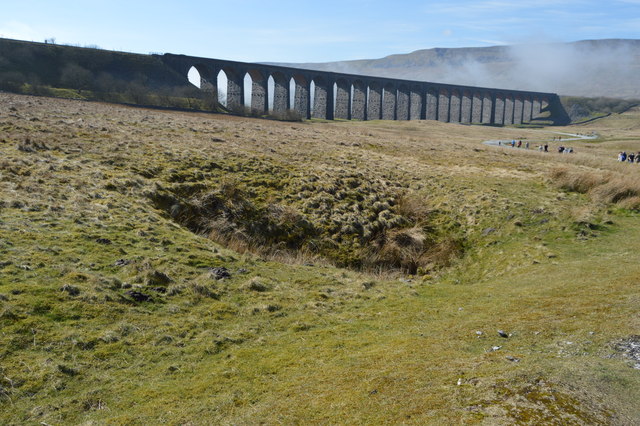 This picture shows a sink hole near the viaduct.
5 responses to "Rocks!!!!!"